Written by Pauline Romeo
Domaine Font de Michelle is a French wine producer based in Châteauneuf-du-Pape. The Domaine is best-known for its range of red and white Châteauneuf-du-Pape wines, but has also expanded its portfolio with the addition of several Côtes du Rhône and Côtes du Rhone Villages Signargues wines.
The Domaine's principal wine of Châteauneuf-du-Pape, Cuvée Tradition, is predominantly made from Grenache, with Syrah, Mourvèdre and other grape varieties including Cinsaut, Counoise, Terret and Muscardin making up the remainder of the blend. The grapes are harvested by hand from vines averaging 45 years old and are destemmed and macerated with their skins for approximately 18-24 days. Each grape variety is vinified separately in a range of different oak vessels, from foudres (large old barrels) and fûts (smaller oak barrels). The same process is used for the Cuvée Etienne Gonnet Châteauneuf-du-Pape.
Outside of the flagship vineyards in Châteauneuf-du-Pape, Font de Michelle has a 20-ha (49-acre) property in Domazan in the Signargues village – La Font du Vent. These vineyards are planted to Grenache, Syrah, Cinsaut and Carignan, which form the basis of the estate's Côtes du Rhône and and Côtes du Rhone Villages Signargues offerings.
Founder Etienne Gonnet established the 30-hectare (74-acre) Domaine in 1950. His two sons, Jean and Michel, took over in 1975 and in turn passed their responsibilities on to their own children, Bertrand and Guillaume. The Gonnet family has also established Gonnet Pères et Fils to distribute its Domaine Font de Michelle and La Font du Vent wines, as well as Rhône Valley wines from a selection of winegrowers in the region.
You can taste the knowledge, history and patience that has been poured into this wine.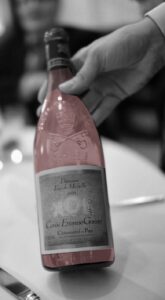 Enjoy a Domaine Font de Michelle wine today!