A mobile solution offering flexibility and instant access to information about your operations
Introducing eBottli, the SaaS solution revolutionizing the way food and wine producers track and trace their operations. With our easy-to-use mobile platform, we harness the power of Internet of Things (IoT) technologies, such as QR codes, geotrackers, and RFID, to ensure compliance, efficiency, and guarantee product provenance.
W
ho is our solutions designed for?
Owners Food & Wine Producers
Make your operations more efficient

Protect brand notoriety
Save time and money
Avoid human mistakes
Stay compliant with regulations
Operation Manager
Offer an easy mobile solution for your operations

Implement a scalable and flexible long-term implementation
Track, trace and control everywhere in your pocket
Predict and anticipate by understanding your histo

ry
Suppliers and Distributors
Delegate by keeping safety

Optimize your processes efficiency
Track and trace in real-time who does what when where what
Manage teams and different warehouse locations
eBottli has designed a unique and innovative food and wine production traceability software. Its combination of digital options, sensors and analytics to optimise your supply chain for performance, monitor quality for compliance, and ensure proof of provenance. 

HUMAN
We aren't just a faceless brand on the website, we meet personally with clients to tailor, our products are about making it easy for humans, not making humans fit with the technology

ACCESSIBILITY
We don't lock people to a desktop, we provide mobile & tablet access so you can manage on the go and across sites

API CONNECTIVITY
We don't sit separate to existing systems and it's not static, we can evolve the solution along with your business and personalise the solution so that it talks to other software you have (or acquire) so you have a single point of access to manage your production

VALUE CREATION
We don't just sell software, we offer end-to-end solution. We want to design a solution that is right for the indviduals and your business
A
Full Integrated Solution
No needs to switch between several softwares. We may be able to help you in other ways as interconnecting your existing software to make it more efficient or providing other customized digital solutions to help you grow your business.
L
earn what our customers have to say
"The team at eBottli is helping businesses like ours, utilise state of the art technology to solve old school problems. Collaborating with eBottli provides us with the best chance to operate as efficiently as possible helping save time, and money. eBottli provide thoughtful, technical advice on improving manual and time wasting activities."
Tara Madgett
General Manager - Mclaren Vintners
"The eBottli team shows passion and commitment. The most admiring thing is the realibity they create for you as customer, with sense of belonging and detailing. Too good."
Vikas Gupta
General Manager - AWM Global
"At Paulmara Estates we were fortunate to have connected with eBottli. It is important that we work with people who understand our brand and offer a strategic roadmap. They get to fully understand your business before they propose systems that can add value to your business, they truly make you feel that they are just as passionate about your success as what you are. Honesty and Integrity is paramount in our business so we try and aline ourselves with people of similar values."
Paul Georgiadis
Owner - Paulmara Estates
"Wines of Adelaide Pty Ltd has been working with Nathalie and the eBottli Team and found their input to our business invaluable. Absolute professionals and a pleasure to work with. We would encourage for any wine business to discuss your challenges with the eBottli team"
Peter Jackson
Managing Director - Wines of Adelaide Pty Ltd
"Nathalie and the eBottli team are incredibly experienced and knowledgeable about the wine industry. They bring international knowledge to local problems and go above and beyond for everyone they work with."
Laura Tolson
Director - Lateral Vision
T
he team behind the innovation
The CEO, Nathalie Taquet has worked for more than 15 years in scientific research at Nestle. The CTO, Nicolas Foata has worked for more than 14 years in IoT, cloud, luxury goods tracking and big data.
Today, they have only one desire, which is to improve the food and wine production traceability of the supply chain and provide digital solutions in order to guarantee the quality of what we eat and drink.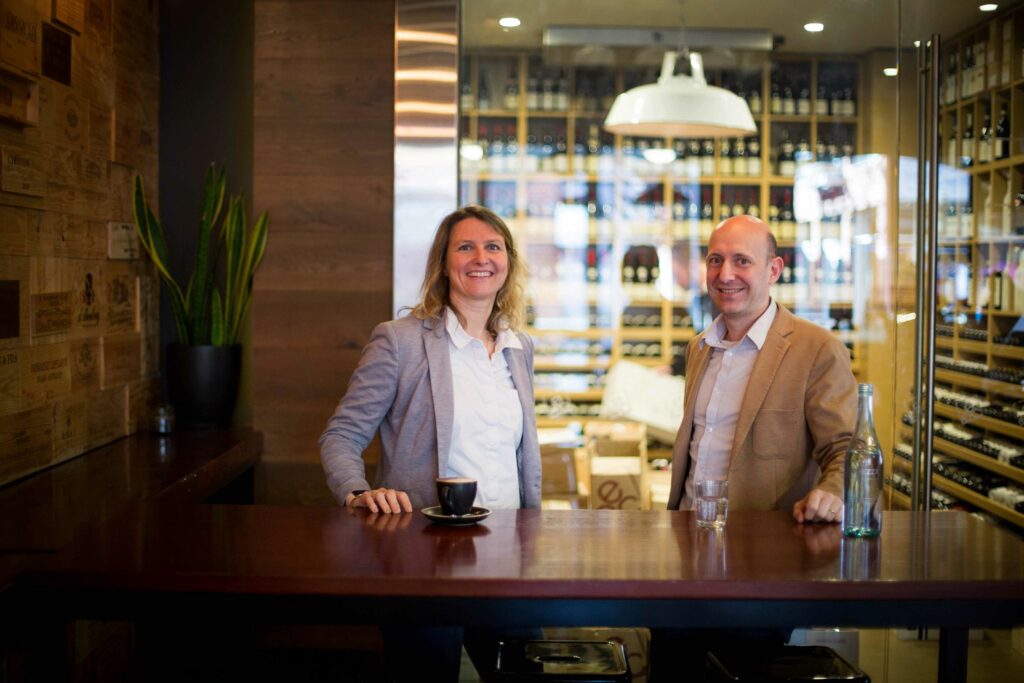 Lot 14, Stone & Chalk, North Terrace, Adelaide, SA 5000, Australia
Shack 15, 1 Ferry Bldg Ste 201, San Francisco, CA 94111, United States
Subscribe to our Newsletter

Our Solutions
Whether you are facing a challenge in your operations, willing to pursue a goal in the future regardless of your current situation, or wishing to jump on an unexpected opportunity, eBottli will support you in the implementation of digital tools to address your needs. 
Don't hesitate to check our food production traceability software now!