eBottli: A mobile solution offering flexibility and instant access to information about your operations
eBottli has designed a unique and innovative food and wine production traceability software. Its combination of digital options, sensors and analytics to optimise your supply chain for performance, monitor quality for compliance, and ensure proof of provenance. 

HUMAN
We aren't just a faceless brand on the website, we meet personally with clients to tailor, our products are about making it easy for humans, not making humans fit with the technology

ACCESSIBILITY
We don't lock people to a desktop, we provide mobile & tablet access so you can manage on the go and across sites

API CONNECTIVITY
We don't sit separate to existing systems and it's not static, we can evolve the solution along with your business and personalise the solution so that it talks to other software you have (or acquire) so you have a single point of access to manage your production

VALUE CREATION
We don't just sell software, we offer end-to-end solution. We want to design a solution that is right for the indviduals and your business
L
earn what our customers have to say
"L'équipe d'eBottli aide les entreprises comme la nôtre à utiliser des technologies de pointe pour résoudre des problèmes traditionnels. La collaboration avec eBottli nous donne la meilleure chance de fonctionner aussi efficacement que possible, ce qui nous permet de gagner du temps et de l'argent. eBottli fournit des conseils techniques réfléchis pour améliorer les activités manuelles et les pertes de temps."
Tara Madgett
Directeur général - Mclaren Vintners
"L'équipe d'eBottli fait preuve de passion et d'engagement. La chose la plus admirable est la réalité qu'ils créent pour vous en tant que client, avec un sentiment d'appartenance et de détail. Trop bien."
Vikas Gupta
Directeur général - AWM Global
"At Paulmara Estates we were fortunate to have connected with eBottli. It is important that we work with people who understand our brand and offer a strategic roadmap. They get to fully understand your business before they propose systems that can add value to your business, they truly make you feel that they are just as passionate about your success as what you are. Honesty and Integrity is paramount in our business so we try and aline ourselves with people of similar values."
Paul Georgiadis
Propriétaire - Paulmara Estates
"Wines of Adelaide Pty Ltd a travaillé avec Nathalie et l'équipe d'eBottli et a trouvé leur contribution à notre activité inestimable. Des professionnels absolus et un plaisir de travailler avec eux. Nous encourageons toute entreprise viticole à discuter de ses défis avec l'équipe eBottli.
Peter Jackson
Directeur général - Wines of Adelaide Pty Ltd
"Nathalie et l'équipe d'eBottli sont incroyablement expérimentés et connaissent bien le secteur du vin. Ils apportent des connaissances internationales aux problèmes locaux et se surpassent pour tous ceux avec qui ils travaillent."
Laura Tolson
Directrice - Lateral Vision
T
he team behind the innovation
Le CEO, Nathalie Taquet Nathalie Taquet a travaillé pendant plus de 15 ans dans la recherche scientifique à Nestlé. Le CTO, Nicolas Foata a travaillé pendant plus de 14 ans dans les domaines de l'IoT, du cloud, du suivi des produits de luxe et du big data.
Today, they have only one desire, which is to improve the food and wine production traceability of the supply chain and provide digital solutions in order to guarantee the quality of what we eat and drink.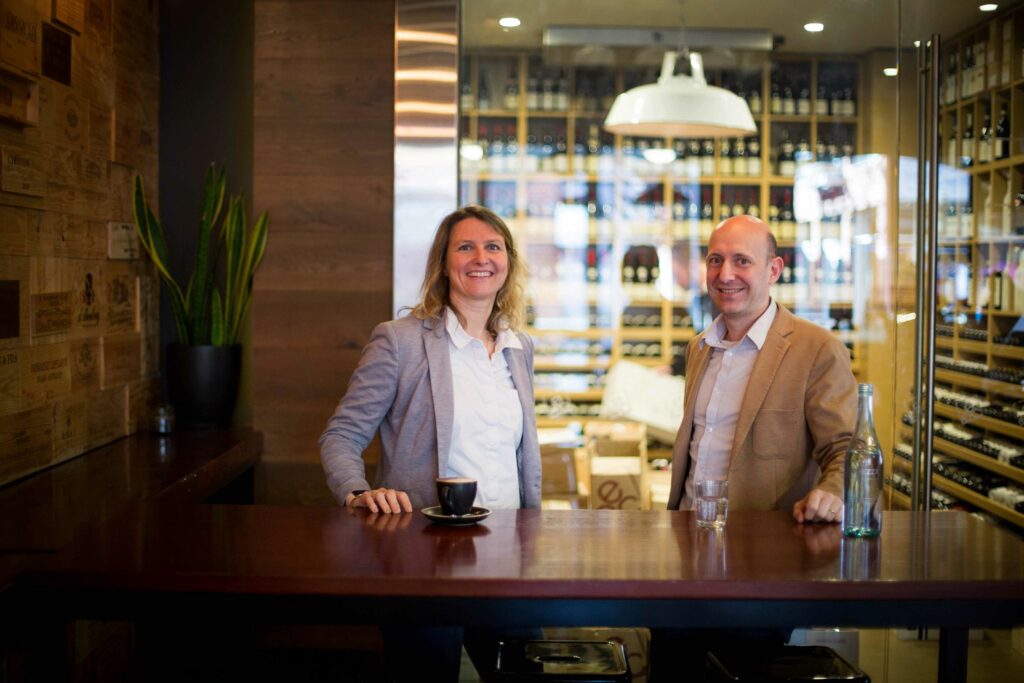 Lot 14, Stone & Chalk, North Terrace, Adelaide, SA 5000, Australia
Shack 15, 1 Ferry Bldg Ste 201, San Francisco, CA 94111, United States
Subscribe to our Newsletter

Our Solutions
Whether you are facing a challenge in your operations, willing to pursue a goal in the future regardless of your current situation, or wishing to jump on an unexpected opportunity, eBottli will support you in the implementation of digital tools to address your needs. 
Don't hesitate to check our food production traceability software now!